Mental Health Assessment Development - Specialisms - Week 3 - 55 mins
Please Note: The reason for raising the above separately is to give it better chance of inclusion in dev phase 1.

Hi all,
Following todays functional review session, please see the attached pathway for the north west.
Areas identified for improvement in the current v5 at LWH are the following
Specific question re: suicidal thoughts for all women on the mental health assessment, regardless of the GAD2 being triggered.

Mental health assessment needs to be mandatory on postnatal discharge and within the postnatal community assessment

Whooley questions to be asked at each AN contact rather than all mental health Qs .

Need a confidential area for pmht to document where the woman cannot view in her notes.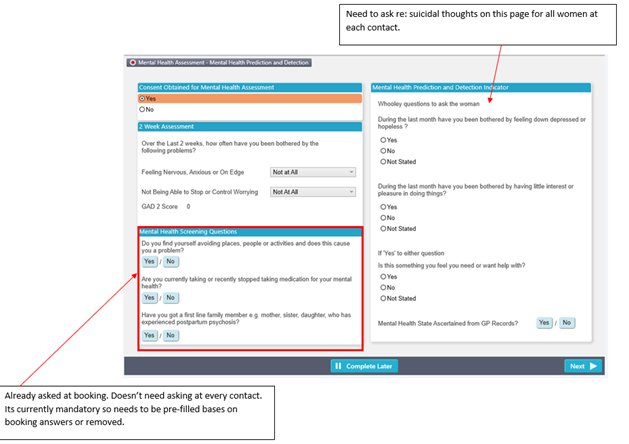 Hope this makes sense. Paula Jones is our pmh lead if you need any further info.
Thanks,
Genevieve Cousineau